The Virtual Research Department
A research team at your fingertips.
The Virtual Research Department lets you focus on the big picture while we deal with the nitty-gritty. Whether you are a lawyer or a small business owner, getting right down to business is your ultimate goal–building a client base, or marketing your product is top-of-mind. The work of supporting your business can fall by the wayside, especially when you're working alone or on tight profit margins.
That's where a trusted Virtual Research Department comes in handy. Professional researchers are available to answer your questions, help you think of ideas, and build your knowledge base. Your product and business strategy benefits from resources that were once reserved for big law or big business. Concentrated talent is now at your disposal.
a.p.strom's VRD builds your business without the overhead. It provides a subscription-based research and writing service, to keep you ahead of your competition and on-track for meeting your obligations. You obtain access to an 'on-call' advisor able to dig into complex questions and find creative solutions.
It's extra hands without the hassle, ready to get to know you, your business, and your goals. The virtual research department has wide experience with legal, technical, and policy matters waiting to be put to use for your benefit.
---
Sign up
Once you've signed up for a VRD funding level, you can begin assigning work to the department straightaway.
about you
We will meet with you to understand your needs, prioritize your projects, and make sure that you receive service that meets your goals.
Commitment
VRD subscriptions are annual contracts with a minimum 'get-to-know-you' period of 6 months. If you're not happy after this time, you can cancel as you please.
Rollover
Have a light month? We want to see you thrive. Your unused funding level's services rollover to the next month.
---
---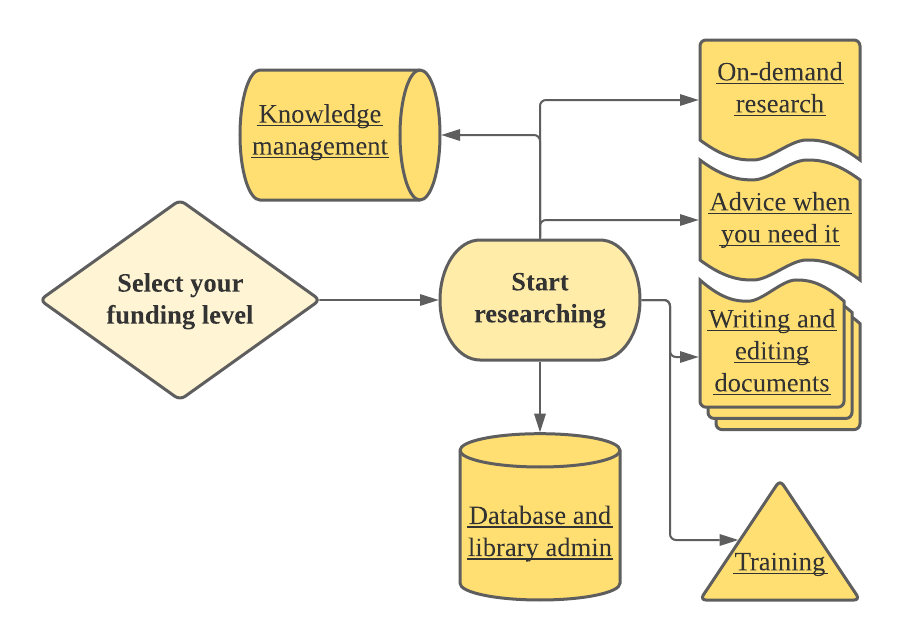 ---
Virtual Research Department funding levels
Each level builds on the other, and the substantive areas remain the same throughout. Legal topics include: constitutional law, administrative/public law, human rights, labour and employment law, the law of interpretation, civil procedure and arbitration. Business research topics include: the regulation of transportation, especially aviation; corporate governance; additive manufacturing; and Industry 4.0.
Starting

You're building a law practise or business and need to expand your research capacity to promote business development and meet client needs.
The Virtual Research Department gives you the early support that you need without your having to hire new employees. Get your ideas, products, and client list started while the virtual research department feeds you the information that you need to move your business forward.
Growing

Things are moving along nicely, and you need additional support as you plan your next moves.
The VRD works with you to assess your business's research needs based on your planned growth. Sustainable research sources are brought online for your business to ensure a smooth transition toward a larger operation.
ConsolidatinG

Your law practise or business is rocking! Time to settle into a steady rhythm, bank a little, and enjoy the fruits of your labour.
Let the VRD take the strain. Consolidate your client list, build strong relationships, and let your product speak for itself. Direct workflow while the VRD responds to research requests, explores new options, a
operating

You've reached your goals and are working steadily, but need an extra edge to satisfy your clients or compete with other businesses.
Push into new realms with confidence as the VRD continues to supply on-demand research, guides new hires with database training, and drives knowledge management across your organization.